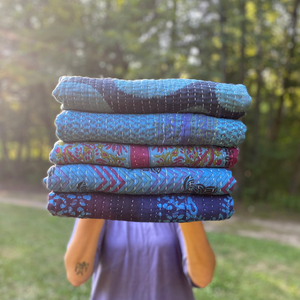 Looking for a cozy and colorful addition to your living room or bedroom? Look no further than our Kantha Throw Blanket Quilt, now available in a stunning over-dyed finish! This handmade piece is crafted from layers of upcycled cotton saris, expertly stitched together with the traditional kantha embroidery technique. The result is a one-of-a-kind blanket that's both beautiful and eco-friendly. Perfect for snuggling up with on chilly nights or adding a pop of color to any space, this Kantha Throw Blanket Quilt is sure to become a cherished addition to your home.
Kanthas are hand stitched throws made by women in India from recycled saris. Layers of 3 or 4 pieces of sari fabrics hand stitched together. Each one is unique and has its own character. Some may have sweet little patches or pieced fabrics. Some vintage patches may have fading.
This latest style features over-dyed vintage fabrics giving them a beautiful, warm toned, more cohesive look than our original kanthas. They are the perfect travel blanket, couch covering, wall tapestry, fabric yardage, and the list goes on and on. Because each kantha, and even each side, is entirely unique, we do not offer color or style options to choose from. If you like perfection and newness these might not be for you. If you love the beauty of items that have a story to tell you will love these. 
- 42" by 80" (approx. 105 cm by 200 cm) - Wash and dry safe