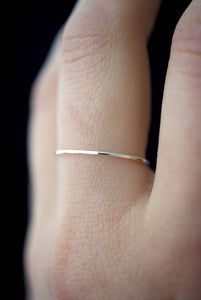 Ultra-thin stacking rings in sterling silver.
Every item is handcrafted out of high­ quality, nickel free metal by Hannah and a small production team in Portland, OR. Our pieces are made from Sterling Silver, .925 Sterling.
Wear a single piece for a delicate look or mix and match to create a bold statement! Hannah Naomi jewelry is designed to be playful, accessible and allows the style of the person who's wearing it shine through—whatever that style may be.