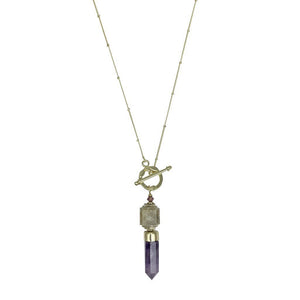 This casual, glam necklace features a satellite chain with a bar, circle closure and a highly polished amethyst pendant.
Amethyst is said to be one of the most powerful and protective stones. In the spiritual world, this semiprecious stone is often used for healing purposes and stimulates the mind. It is also the February birthstone. We partner with a Fair Trade cooperative that provides education and health care to the families of makers and impart training and capacity building to enhance producer skills. The organization is committed to providing support services to the marketing of handicrafts on Fair Trade principles, while addressing community developmental needs of the artisan makers.
Material: Polished amethyst, gorara stone + brass chain Measurements:
L 18"
Fair Trade + handmade with love in India
As with all natural stones, there are slight variations making each piece a work of art and truly one-of-a-kind.