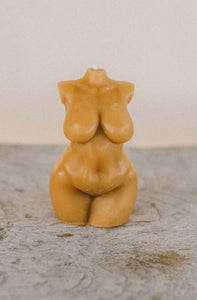 "I deserve and accept all the abundance life has to offer. " The "Abundant Goddess" candle calls forth Abundance into the lives of those who burn
These candles are hand-poured from 100% pure beeswax sourced from small, bee-centric beekeepers. Also, more fondly known as bee guardians. These bee guardians work in harmony with the bees, only taking what is extra and abundant in the hive. These hand poured candles may have small imperfections or color variations due to their artisanal nature and happy healthy bees!
Trim wick to 1/4″ before lighting and place on a level, fire resistant surface or dish. Keep candle free of any foreign materials including matches and wick trimmings. Stop use when only 1/4″ of wax remains." Burn within sight. Keep away from flammable objects. Keep away from children and pets. Burn time of approximately 6-8 hours.