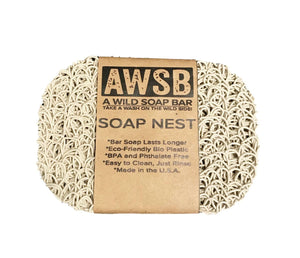 Keep your handmade soaps high and dry!
Made in the USA from renewable corn, this bioplastic soap dish is BPA and phthalate free. It can be trimmed to fit inside soap dishes, if necessary, and it's easy to clean by holding it under running water and giving it a few swipes with a soft brush. If you do put it in a dish, be sure to empty it each time so the nest doesn't sit in water. Soaps don't stick to it because it's flexible and you can just peel the bar right off.
This is THE BEST soap saver we've ever used!
Measures approximately 3″ x 4.25″