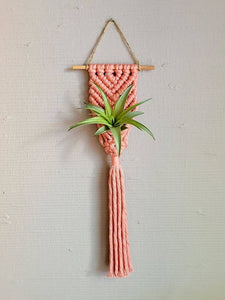 If you frequent houseplant hobbyist groups, you've most likely seen this post- "I love my new air plants! Any idea what I'm supposed to do with them?"
Enter: These adorably chic macrame hangers. Liven up your space (and sell more air plants) with a color combo that fits your style.
~~~~~~~~
Please Note All air plant hangers should be kept dry. Instructions for keeping hangers dry are on tags attached to each one. Corded tassels are easy to display, they fall into place without combing or smoothing.