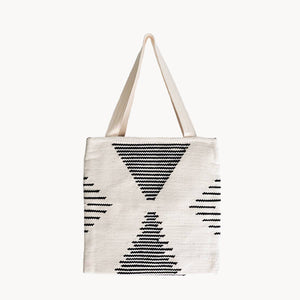 Add a bit of personality and uniqueness to your daily look. Handloomed with recycled chenille scraps, this upcycled fabric tote with a soft texture, simple & neutral color, and pattern is the perfect fall and winter accessory. This unique handmade shoulder tote is stylish, functional, and ideal as a daily bag or to load up for weekend.
- Size: Approximately 15.75"tall x 15.75"wide
- Material: Recycled chenille fabric
- Due to the handcrafted nature, slight variation will occur in design, color, and size. - Each bag is one of a kind because no two recycled fabrics are alike.
- Machine wash using the normal cycle. Place the clutch in the laundry bag to protect delicate fabrics in the wash. - Lay the bag flat in its natural shape on a drying rack or hang to dry. - Do not rub stains or spills from your bag, as this may spread the stain and loosen the fabric. - Avoid harsh cleaning detergents or bleach.