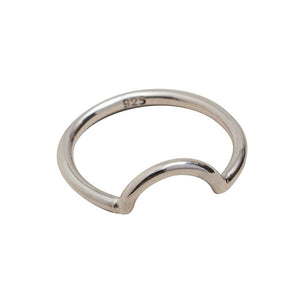 Taking inspiration from the sky, this minimal half moon ring is perfect alone or stacked with your other favs.
In Inca culture there is a strong connection to astrology and many traditions are based upon the lunar calendar.
Material: Sterling silver
Size: 7
Fair Trade + Handmade with love in Peru.
As with all handcrafted goods, there are slight variations making each piece a work of art and truly one of a kind. Peru has an ancient tradition of silver and goldsmiths dating from pre-Columbian times. Northern Chimu and Moche cultures made astonishing objects made of silver, gold, and copper that were used as adornments for high dignitaries. These pieces have been found in tombs and can be seen now in world class museums. This rich heritage of casting, soldering, embossing, and wiring of metals has been passed down through generations. Today, these skills are mixed with contemporary trends and designs to make beautiful objects that can successfully reach the global market.