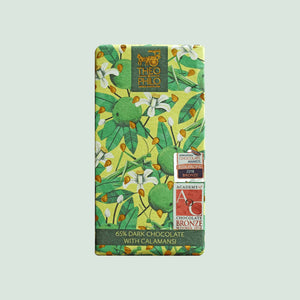 Forget sunshine in your pocket—go for sunshine in your chocolate bar.
A refreshing tropical zinger, calamansi, adds a boost of citrus to your deep and velvety dark chocolate. No matter if it's La Niña or El Niño, it's always a perfectly balmy summer with this sweet and tangy combo.
Calamansi is a small citrus fruit that is ubiquitous in the Philippines often used in beverages, sauces, and squeezed over dishes to add a zesty flavor.
Ingredients: Cacao Beans, Sugar, Calamansi Rind, Cocoa Butter
Theo & Philo is a chocolate maker based in the Philippines. Theo and Philo prides on using local ingredients. It all started from Philo's love of baking, and desire to use chocolate. He would always scour for special and different types of chocolate. Growing up in the Philippines, he was surprised no one was making bean to bar chocolate, after he first encounter with single estate chocolate. Cacao is grown in the Philippines but it was mostly used to make hot chocolate and exported.