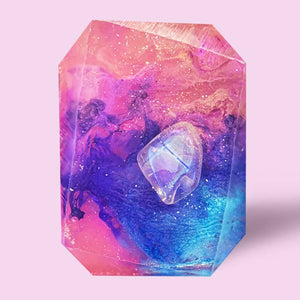 Crystal description  Moment of gratitude was created to remind us of the sweetness life has to offer and to be grateful. Embedded inside is angel aura, the perfect stone to practice gratitude, as it works to assist us in remembering to pay attention to the beauty surrounding us, whether it is in nature or spirit. Using angel aura helps one transform into a beacon of inner beauty, peace, and spiritual awareness during their journey in this world.
Scent description We paired it with a blend of tangerine, peach, lemon, cotton candy, and green apples! This blend is so sweet you may even want to take a bite... And as grateful for that as we would be, we do not actually advise you to eat our soaps.
Product information Ingredients: Coconut oil, sustainable palm oil, safflower oil, glycerine, purified water, sodium, oat protein, essential oil, fragrance oil, mica, activated charcoal.